Accessibility Resources for Faculty
Principles of Accessibility (WebAIM)
Provide appropriate alternative text
Content is well structured and clearly written
Help users navigate to relevant content
Provide headers for data tables
Do not rely on color alone to convey meaning
Ensure users can complete and submit all forms
Ensure links make sense out of context
Caption and/or provide transcripts for media
Ensure accessibility of non-HTML content
Section 508 Of The Rehabilitation Act
Section 508 requires that all Web site content be equally accessible to people with disabilities. This applies to Web applications, Web pages and all attached files. It applies to intranet as well as public-facing Web pages.
UST Disabilities Syllabus Statement
Note to Faculty: The purpose of a disability statement is to help students feel more comfortable in approaching the disability resources office about their disability and to facilitate arranging accommodations in a timely manner. Please add the disability statement below to your syllabus.
The Disability Resources office has updated the syllabus statement for the 2015-16 academic year. Please be sure to update your syllabi.
Academic accommodations will be provided for qualified students with documented disabilities including but not limited to mental health diagnoses, learning disabilities, Attention Deficit Disorder, chronic medical conditions, visual, mobility, and hearing disabilities. Students are invited to contact the Disability Resources office about accommodations early in the semester. Appointments can be made by calling 651-962-6315 or in person in Murray Herrick, room 110. For further information, you can locate the Disability Resources office on the web at http://www.stthomas.edu/enhancementprog/.
--Updated 08/17/2015
Blackboard and Accessibility
Although Blackboard is an accessible LMS, uploading content into Blackboard doesn't automatically make the content accessible.‌
This PDF document developed by Blackboard identifies some of the challenges students face and how faculty can use specific Blackboard tools and univeral design techniques to help all learners master your course objectives.
What's it like to be a blind student using a JAWS screen reader to interact with and complete various tasks in Blackboard Learn? Check out one of the JAWS demos created by Blackboard:
- Student Submitting an Assignment
- Student Taking a Test
- Student Viewing Grades
The videos below are recorded sessions in which a blind instructor is using a JAWS screen reader to create content and create and grade assignments in Blackboard.
- Instructor Adding Course Content
- Instructor Creating Assignment
- Instructor Grading Assignment
Blackboard's tutorial for screen reader users showing how to navigate Blackboard is at: http://library.blackboard.com/d/?eb3b04cd-4d39-4af0-9d2d-a3f32a95430f. For more information about Blackboard and how to develop a course for universal design and accessibility, visit Blackboard's UDA course.
Color Contrast Checker
WebAIM provides a great online tool for checking the color contrast of your text. It's recommended that you have a contrast ratio of 4.5:1 for normal text and 3:1 for large text. WebAim Color Contrast Checker
Making Word, PowerPoint and PDF Documents Accessible
Accessible Word Documents
The following guidelines come from San Francisco State University's Word Accessibility Checklist:
Headings and lists are marked up with the application's style and format tools so that semantic meaning is conveyed to a screen reader user.
Images include an alternative description (alt text) that is meaningful to a screen reader user.
Complex charts or tables contain proper headings, captions or summaries.
Color contrast is sufficient, namely in text, charts and images.
File size of images is small enough to make them easy to download.
A link to a free Word viewer or an HTML equivalent has been provided.
Form elements have text descriptions.
Forms have been verified that they can be completed using common screen readers.
The reading order is correct and has been verified using a screen reader.
WebAIM has an excellent web page on the basics of creating accessible Word documents and using the Accessibility Checker in Word to check: http://webaim.org/techniques/word/. They also have an article on converting a Word document into an accessible PDF: http://webaim.org/techniques/acrobat/converting#word (pdf)
A checklist from the US Deaprtment of Health and Human Services on making Word documents compliant with Section 508 guidelines.
Accessible PowerPoint Documents
A checklist from the US Deaprtment of Health and Human Services on making PowerPoint documents compliant with Section 508 guidelines.
The following guidelines come from San Francisco State University's PowerPoint Accessibility Checklist:
Using the built-in slide layouts present in PowerPoint ensures that all the objects can be perceived by assistive technologies.
Does all the content in your slide show appear in the outline view of the show? Information that is not present in the outline view of the slide show will not be perceived by screen readers.
Does all the information appear in the outline view in the same order as it does on the slides? Screen readers will deliver the content in outline view order.
Do the slide notes contain appropriate descriptions of images, graphs, tables, and charts that appear on the slides? The notes feature allows screen reader users access to this information. Providing text descriptions of images, graphs, tables, and charts can also increase understanding for others as well.
Have you replaced all word art with real text, or provided a text alternative in the notes pages? Word art is not accessible to screen readers. It is also difficult or impossible to read when using a screen magnifier.
Do your choices of text size, font, and foreground and background colors enhance readability? Avoid the use of distracting colors or fonts and provide sufficient color and contrast to avoid problems for people who are color-blind or have low vision.
Are transcripts available for embedded audio clips? Transcripts are necessary to provide information to people who cannot hear the audio portion of the presentation.
Are embedded multimedia clips captioned and audio described? Captioning and audio description provides access to multimedia for people who are deaf or hard of hearing, or who are visually impaired.
Accessible PDF Documents
A checklist from the US Deaprtment of Health and Human Services on making PDF documents compliant with Section 508 guidelines.
WebAIM provides a comprehensive guide on creating accessible PDF documents:
"The majority of the PDF files on the web were probably created in Microsoft Word. The good news is that it is possible to create accessible PDF files in Office, as long as the following requirements are met: The file must be accessible. That includes providing alternative text for images, proper headings, appropriate link text, etc. For more information, read our tutorial on Microsoft Word. Office 2000-2003 users must have Acrobat installed, as well as the add-in. Office 2007 users must have either Acrobat or the Microsoft PDF add-in installed. Office 2010 users can create tagged PDF files natively or with the Adobe add-in. The file must be exported correctly. If a file is created by printing to PDF, it will not be correctly tagged.
When people talk about "accessible" PDF files, they usually are referring to "tagged" PDF files, even though there is more to an accessible PDF than tags. PDF tags provide a hidden structured, textual representation of the PDF content that is presented to screen readers. They exist for accessibility purposes only and have no visible effect on the PDF file." --WebAIM
Read Out Loud Feature in Adobe
The Read Out Loud feature can definitely make some PDF files more accessible to people who are unable to access a PDF with their regular screen reader. It may also be useful for individuals who do not use a screen reader, but who still would benefit from having a PDF read out loud. For example, a person with certain cognitive disabilities might benefit from reading and hearing. More information is available here.

Adobe Reader X Accessibility Quick Check
In Adobe Reader X, the Accessibility Quick Check is run by selecting Edit > Accessibility > Quick Check from the Adobe Reader menu. The keyboard accelerator is Alt+E+ Y + Q. The keyboard shortcut is Shift + Ctrl + 6.
Captioning Audio & Video
"Captions are text versions of the spoken word. Captions allow the content of web audio and video to be accessible to those who do not have access to audio. Though captioning is primarily intended for those who cannot hear the audio, it has also been found to help those that can hear audio content and those who may not be fluent in the language in which the audio is presented.
Common web accessibility guidelines indicate that captions should be:
Synchronized - the text content should appear at approximately the same time that audio would be available
Equivalent - content provided in captions should be equivalent to that of the spoken word
Accessible - caption content should be readily accessible and available to those who need it
On the web, synchronized, equivalent captions should be provided any time audio content is present. This obviously pertains to the use of audio and video played through multimedia players such as Quicktime, RealPlayer, or Windows Media Player, but can also pertain to such technologies as Flash, Shockwave, or Java when audio content is a part of the multimedia presentation." --WebAIM
Captioning Videos
To be accessible, online videos must include captioning. The way captioning is created or included in the online lectures depends on the software used to create the online lecture. To start, please take a few minutes to read through the options available to UST faculty to create accessible videos. The easiest and most efficient way to caption your videos is through the AutomaticSync Captioning Service which is part of UST's Ensemble video server. IRT's Media Captioning web page lists adddional options for captioning.
If you have questions about adding captioning to your online lectures, first try consulting the Help documentation in your software.
Jing: Please note that Jing does not include a captioning feature.
PowerPoint: If you're using PowerPoint 2010, you can download and install the Sub-titling text add-in for Microsoft PowerPoint (STAMP) to create closed captions for video and audio in your presentations.
Adobe Presenter: a brief video on captioning in Adobe Presenter 8.
Camtasia: Contact IRT for assistance with uploading and captioning Camtasia videos into Ensemble.
For questions about captioning please contact the IRT Tech Desk (irthelp@stthomas.edu).
Where to Learn More About Accessibility
St. Thomas Disability Resources Office
St. Thomas' Disability Resources web page contains a wealth of information for both students and faculty on available services and technologies as well as contact information for staff in the Disability Resources office who can answer your questions. Professors with a student who intends to use accommodations when taking an exam or a visually impaired student completing the IDEA form at the end of the semester should contact Disability Resources office (MHC 110) in advance of the exam or evaluation.
It is a student's responsibility to disclose their membership in the Disability Resources Program to their professors if they wish to request accommodations for their courses. Accommodations cannot be provided unless students disclose to both their professors and the Disability Resources staff. Students do not have to disclose their specific disability to their professors.
The Disability Resources office does not automatically notify professors that students have a disability just because a student has submitted documentation.
Students are responsible for requesting that professors receive notification of their disability and options for accommodations.
Sloan Accessibility Webinars
The Sloan Consortium sponsored a series of free webinars focusing on accessibility, including federal regulations, available resources, invisible disabilities, and effective practices for student and faculty success. Each webinar brings together a panel of administrative leaders, faculty, and students with accessibility expertise from across the United States who will provide individual and collective perspectives to working with students and faculty with disabilities in online education.
The first webinar Understanding the Law & Building Accessible Institutional Infrastructures focused on identifying critical issues that all higher education institutions should be addressing. Panel members shared effective practices and available resources for creating accessible institutional infrastructures that support student and faculty success. The key findings, resources and a recording of the webinar can be found here.

‌Access e-Learning
Access E-Learning is a tutorial of the Georgia Tech Research on Accessible Distance Education (GRADE) project at Georgia Tech. This tutorial is comprised of 10 modules that offer information, instructional techniques, and practice labs on how to make the most common needs in distance education accessible for individuals with disabilities, and enhance the usability of online materials for all students.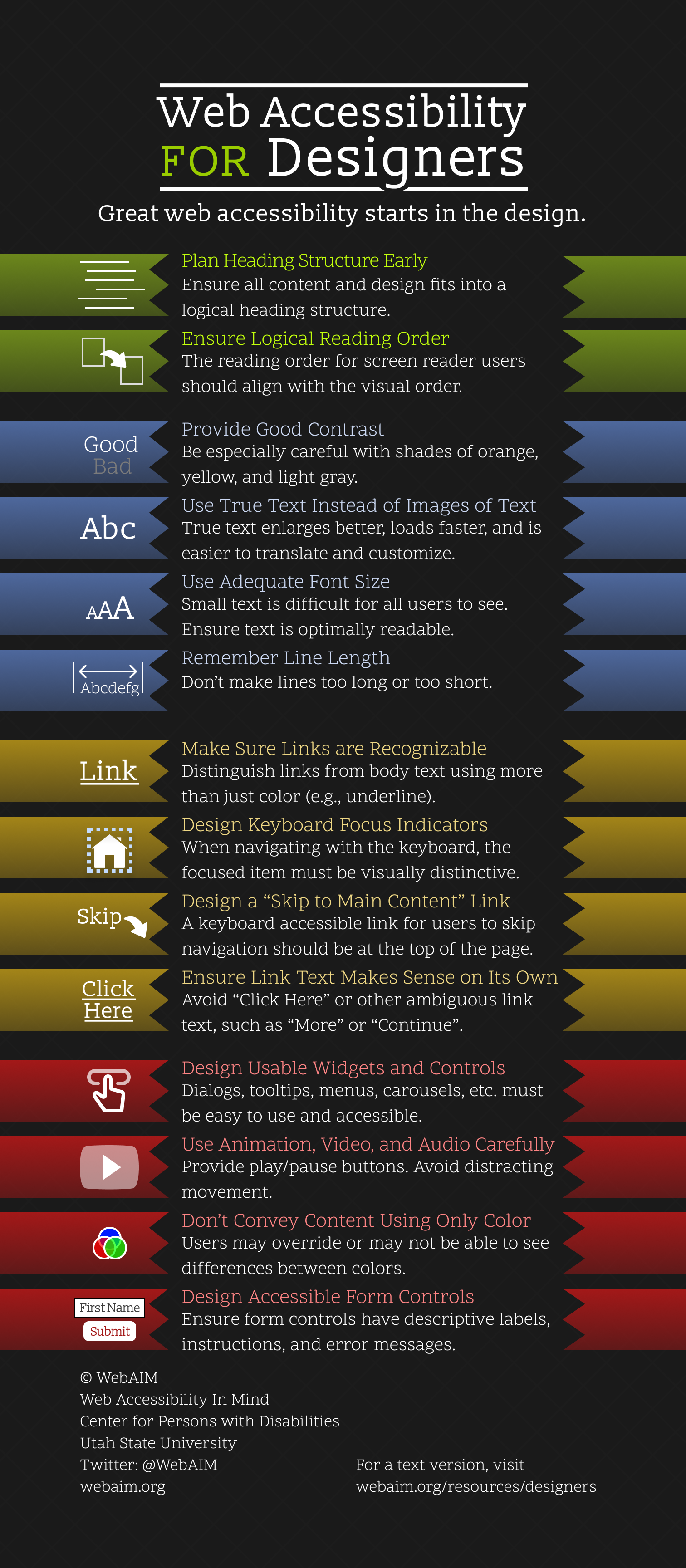 WebAIM Resources